Eiki 16mm Projectors
These projectors are in good to great cosmetic condition and perfect operational condition. 90-day warranty.
Eiki 16mm Projector............ $995.00 + shipping.
(see the Eiki Gallery for pictures of Eikis - yes, we accept school POs!)
The Eiki Slimline SNT is a sturdy self-threading 16 mm projector, and much easier to lift then most 16mm projectors.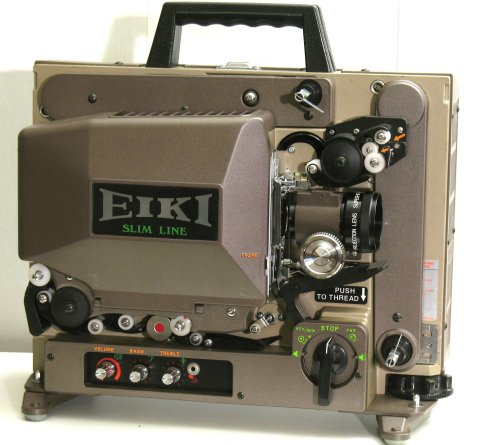 Give us a call to order!
Film Loopers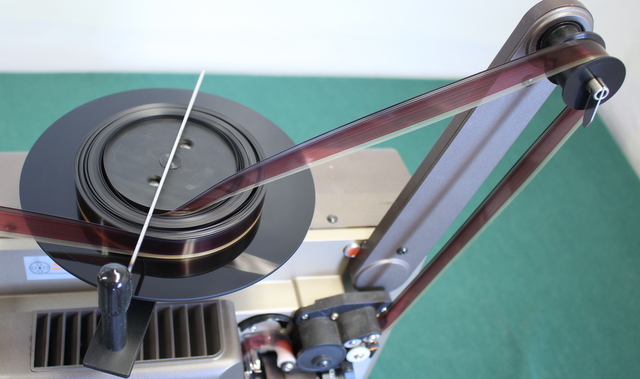 We now carry Film Loopers for all the Artists and Art gallaries out there.
Eiki 16mm Accessories

ELC Bulb (new) .... $19.95
EJV Bulb (new) .... $21.95 (21 volt, 150 Watts)
(most Eiki projectors use the "ELC" bulb)
Shipping for bulbs is $5.50 in United States.
1,600' takeup reel (used)...+$29.50 w/ projector, $37.50 alone
50mm lens "Super 16" ...... $85.00
(this is the standard lens for the projector)
Eiki NT Projector Belts
Arm belts, set of 2 ......... $24.95 $19+shipping! - Order Online
Complete set (2 arm + 2 drive) ... $29 + shipping - Order Online
Internal drive belt, round ......... $9.75
If you have an Eiki projector and the takeup or rewind doesn't turn, there's a good chance it's just a deteriorated drive belt. Remove the two screws and check. Very easy to replace. Belts are new.
Zoom Adapter for standard 50mm Lens (used, mint) .... out-of-stock*
This screws into the stock 50mm lens and is variable from 38mm to 65mm. Great for adjusting projected image size without moving the projector! *limited quantities...may not be in stock.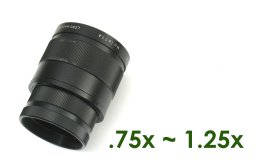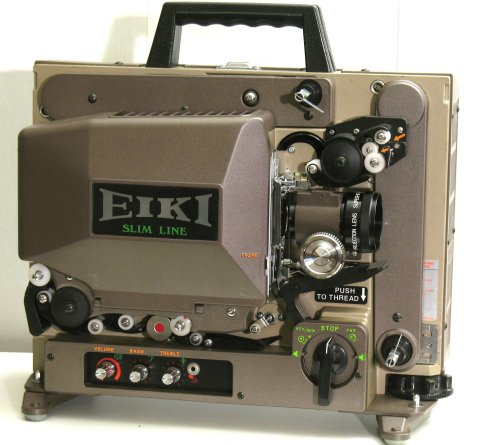 Eiki Slimline SNT/3585 projector.
Features:
2000' maximum film reel size
Plays 16mm optical sound films
High/Low lamp switch
250 Watt ELC Halogen lamp, BRK exciter sound lamp
Volume, bass and treble rotary controls
Still projection switch so you can view a single frame without damaging the film
Automatic film guard that stops the projector if the upper film loop is completely lost as a result of previously damaged film
Loop restorer will reset the lower loop automatically without interruption of the show
Built in 4"X6" speaker, 600 ohm un-balanced auxiliary out jack
Audio Power Output: 25 watts RMS, 8 ohm load
Frequency response: 50 - 7000 hz
Microphone input: Low impedance, unbalanced
Wow and flutter: Better than 0.2% weighted
Eiki 16mm Operating and Service Manuals - Free Downloads!
Operating Manuals
Service Manuals
Image Size Chart
Notes: the stock lens on an Eiki is 50mm (2"). 1" refers to the 25mm lens (very rare) and 1.5" refers to the 38mm lens.